We manage infusion pump data.
Developed in collaboration with leading adult and pediatric health systems, Bainbridge Health unlocks the full value of your infusion pump data to improve safety, drive standardization, and scale pharmacy, quality and safety teams.
News Alert:
Bainbridge Health Enters into Agreement with Purdue University to transform the infusion industry.
The collaboration forms the largest infusion data collaborative in the United States. Under the agreement, Bainbridge Health's Med O.S.® platform will serve as the central source for infusion intelligence and national benchmarking for health systems and industry partners.
Our Focus
Working with infusion data is hard.
Infusion pump data represents a critical source of information to drive quality outcomes and operational performance. But it is challenging to work with. We've processed 84 million infusions across more than 100 hospitals—and can help make the process easier.
Read the Joint Commission's Sentinel Event Alert: Optimizing Smart Infusion Pump Safety.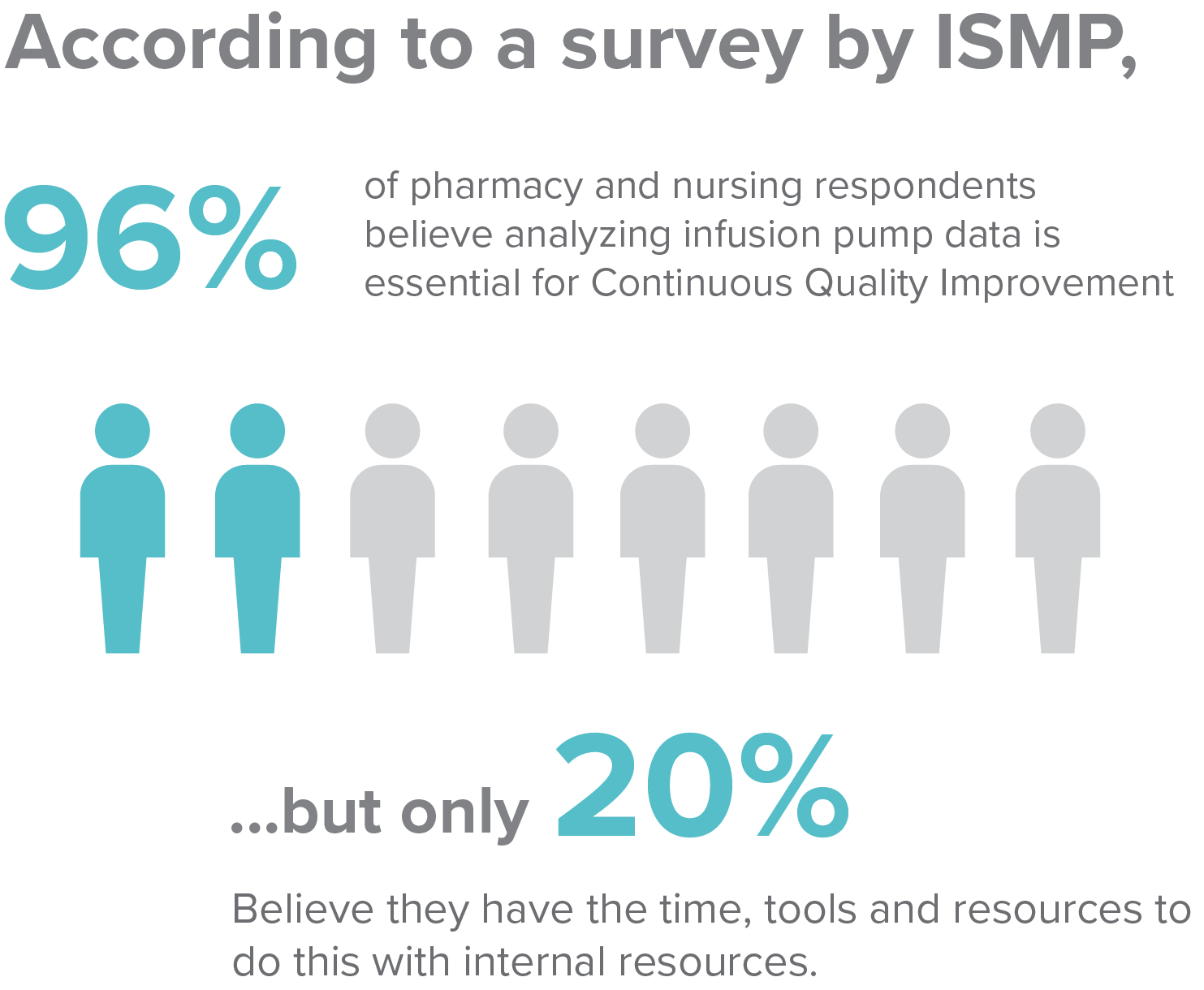 Join The Community
We support the leading industry collaborative of infusion management clinicians in the United States. It's free to join, and open to clinicians.
Features of the Community:
Connect with other thought-leaders responsible for infusion management

Access to unique network benchmarking data trends

Educational events with user-generated content and CE programs



To request access, please fill out the form below.
Our Features
What We Provide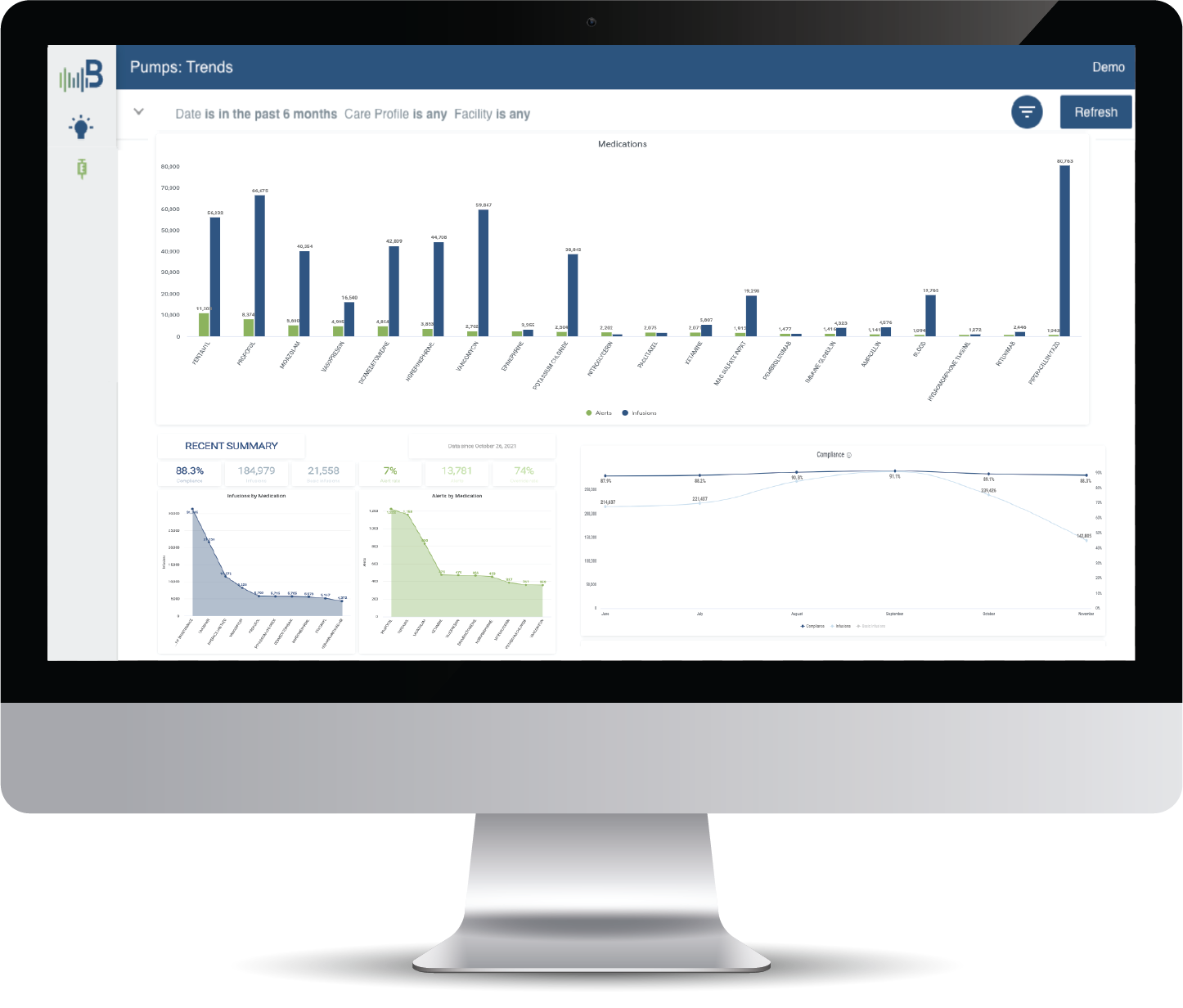 Technology
The Med O.S.® data science platform transforms cumbersome infusion data into actionable insights and recommendations

Hospital Network
Benchmarking data from 100+ hospitals empower clinicians to standardize formulations, optimize clinical decision support, and share experiences

Clinical Service Team
Software is shelfware in healthcare. Our team of Pharmacists and Data Analysts are here to ensure interventions are surfaced, implemented and actually work

User Community
Organizational silos are the enemy of innovation. We support an open and robust community of clinical leaders to share insights, lessons, and best-practices
Outcomes
Use Cases & Results
Technology + Clinicians to unlock value in 3 key areas:

Improve Patient Safety
Comply with ISMP & Joint Commission standards and achieve and maintain DERS compliance over 90%
Reduce clinically irrelevant alerts by over 70% and overrides by 60%
Deep-dives and benchmarking to set hard stops, investigate events and drill into unit compliance

Drive Standardization
Inform pharmacy product selection and standardize formulations to reduce complexity and cost
Reduce controlled substance dispensing by over 33%
Save over $400,000 annually by reducing medication waste

Scale Scarce Clinical Resources
Optimize clinician allocation by cutting the "data clerking" burden by 80% - 90%
Increase ability to sustain quality and pharmacy operations initiatives
Benefit from a team of dedicated pharmacists and clinical data analysts
Feedback from Our Partners
Actionable data is what every change agent in an organization craves. We feel strongly that Bainbridge Health is the perfect partner to help us better and more efficiently utilize our medication data to improve outcomes. Kris Young, Chief Pharmacy Officer | South Shore Health
We're backed by world-class investors.