We provide actionable interventions to pharmacists and safety leaders to improve safety, drive standardization, and scale scarce clinical resources.
Use Cases & Results
Technology + Clinicians to unlock value in 3 key areas:

Improve Patient Safety
Comply with ISMP & Joint Commission standards and achieve and maintain DERS compliance over 90%
Reduce clinically irrelevant alerts by over 70% and overrides by 60%
Deep-dives and benchmarking to set hard stops, investigate events and drill into unit compliance

Drive Standardization
Inform pharmacy product selection and standardize formulations to reduce complexity and cost
Reduce controlled substance dispensing by over 33%
Save over $400,000 annually by reducing medication waste

Scale Scarce Clinical Resources
Optimize clinician allocation by cutting the "data clerking" burden by 80% - 90%
Increase ability to sustain quality and pharmacy operations initiatives
Benefit from a team of dedicated pharmacists and clinical data analysts
What We Do
Our goal is to help our partners unlock the value of their infusion data to improve safety, drive standardization, and scale scarce clinical resources. We bring a combination of technology, a robust clinical services team, and network benchmarking to drive value.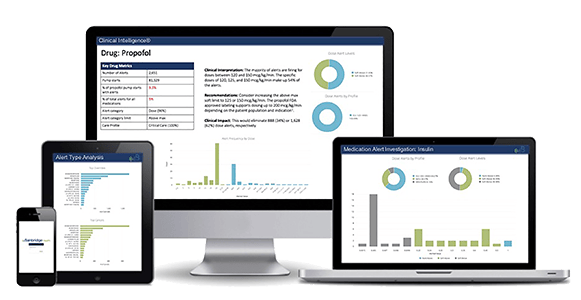 We Bring 3 Things to Our Partners:

Technology
Med O.S. data science platform transforms how infusion data can be analyzed, enables new types of insights, and overcomes the limitations of static reporting

Clinical Solutions Team
Dedicated team of pharmacists and data analysts curate actionable interventions that drive value. Partners get knowledgeable human resources, not just a username and password

Network Benchmarking
Network benchmarking from the leading infusion community in the United States helps disseminate trends, best-practices and informs quality and operational interventions
How It Works
Take The Weight Off Your Shoulders
Before founding Bainbridge Health, we were members of the Pharmacy and Medication Safety team at a large Philadelphia based health system. So, we know first-hand how challenging it can be to bring on a new partner.